Leibniz Innovation Farm for Sustainable Bioeconomy
At the
Leibniz Innovation Farm
, innovative concepts and technologies for a sustainable, circular bioeconomy will be developed and tested in the future by combining crop production, animal husbandry and research biorefinery with algae cultivation, insect rearing, natural fiber processing, production of biochemicals and residue management with integrated biogas plant. For this purpose, the innovation farm will be established as a model farm under the project management of the
ATB
in cooperation with numerous other research institutions. An existing agricultural farm (LVAT e.V.) will be further diversified, digitalized and extended by a research biorefinery.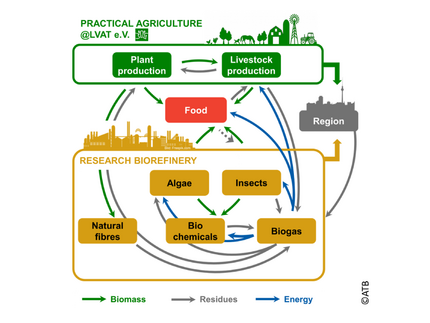 Since spring 2021, ATB has been coordinating the implementation of the Leibniz Innovation Farm for Sustainable Bioeconomy on the grounds of the
Teaching and Research Station for Animal Breeding and Husbandry e.V. (LVAT) Groß Kreutz
, in the Southwest of Potsdam. By the end of 2027, a model farm will be created on which research institutions of the Leibniz Association as well as universities and non-university research institutions will jointly be researching on the pressing issues of a sustainable circular economy for agriculture and transfer the results to practice and society.